The signing ceremony for the investment in localization supporting enterprises of Baotou Beiben Heavy Truck Co., Ltd. was held in Penglai City. The contracted supporting projects included 16 auto supporting companies including Yangzhou Jiexin Automotive Air Conditioning Co., Ltd., Shaoshan Wanxiang Driveshaft, and Chongqing Dajiang Axle. The total investment of the project is 792 million yuan.
At 9:48 a.m., the 25,000th heavy-duty card body saffron produced by Beihang Heavy-duty Penglai Branch gradually pulled out of the production line, which signified that Beiben Heavy-duty Trucks was in a contrarian situation to refresh its own production record, and the output growth rate leapt to the whole industry. first place. Among them, the Penglai branch company produces and sells 9,000 heavy trucks.
North Benz Heavy Vehicle Co., Ltd. is China's modern heavy-duty vehicle production base. At the end of 2006, the company invested 1.2 billion yuan in Penglai to build a North China Benz Heavy-duty Penglai branch project, which will mainly assemble and manufacture more than 100 varieties of trucks, dump trucks, semi-trailer tractors, and modified vehicles.
Bei Ben Heavy Duty Truck invested in Penglai, mainly based on the strong foundation and good environment of the Penglai automobile and parts industry. In recent years, Penglai City has focused on cultivating the automobile and parts industry as one of the four leading industries, proposing the industrial development concept of "strengthening the industry leader, highlighting industrial characteristics, and improving the industrial chain", and formulating industrial planning and industrial policies. Targeted selection of domestic and foreign famous manufacturers of automobiles and parts for investment promotion. Currently, it has more than 20 automobile manufacturing projects such as Beiben Heavy Industry Penglai Branch, FAW (Shandong) Automobile Modification, Shunda Special Vehicle Modification, and Daewoo Korea. The North Mercedes-Benz heavy truck project settled in Penglai, filling the gap in heavy-duty truck production in Yantai. This year, the Penglai project will successfully complete the 10,000 production and sales targets. It achieved sales revenue of over 4 billion yuan. Penglai has also become one of the three major heavy truck production bases in Shandong Province.
The installation of Beiben heavy trucks has driven many supporting companies to follow up, which has led to the scale of the entire Penglai vehicle, serialization of special vehicles, diversification of components and clusters, and the formation of automotive industry clusters. To promote the cluster development of the project, the city is centered on Beiqi Heavy Industry and planned to build Beiben Heavy Truck Automobile Industry Park. It has successively attracted Beichi Wheels, Xinqiao Machinery, Dilian Chemicals, Dianlian Warehouse, Rongxin Machinery, etc. More than 30 supporting companies have settled in, covering more than 200 kinds of auto parts such as axles, wheels, transmission shafts, and chassis, as well as brakes and bumpers. Up to now, 68 companies have signed up and reached an agreement, achieving an annual production value of 4 billion yuan. It is estimated that by 2010, only a company with North Mercedes-Benz will be able to attract 120 auto parts enterprises to settle in Penglai. By then, more than 95% of the spare parts needed by the North Benz heavy truck can be supplied locally.
We can offer American vehicle Chevrolet all the series Brake Pad.Such as Matiz,Spark,Aveo, Epica, Sail, Malibu, Cruze, Captiva, Lacetti, Optra .
Our material containe Semi-Metallic ,Ceramic,low metallic,Jolin Brake Pads get ISO/TS16949 certifaction. We promise no nosie ,no asbestos ,long-service ,low dust.
Our brake pads' range is more than 1500 types ,If you need more items ,please send me your query list to my mail account ,i will make quoation according to your item number,such as OEM NO,FMSI NO.,fdb NO.,AK NO,MK NO,LUCUS NO,WP NO ,LPR NO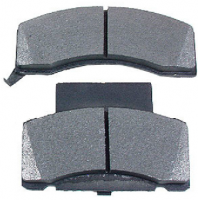 <<
Yancheng

Jolin

Auto

Parts

Co.,

LTD

Email/Skype

:

angie@autopartsjolin.com

FAX:

0515-88280889
ITEM
FMSI

NO.
FDB
REMSA
AP
LUCAS
MINTEX
ICER
OE

NO.
Vehicle
1
D52-7214A












18043837
Buick

Cadillac

Chevrolet

Jeep
2
D52-728A
FDB144
510.00


GDB742
MDB1594
141415
8130363
Buick

Cadillac

Chevrolet

Jeep
3
D153-7084A


514.00




MDB1790


12321437
ChevroletTruck

GMCTruck
4
D242-7153
FDB308
167.04
LP460
GDB323/GDB3184
MDB1251


0446510040
Chevrolet

Toyota
5
D289-7192


526.02


GDB4028
MDB1598


12321417
Buick

Chevrolet

Pontiac

Cadillac
6
D295-7196






MDB2343




10112657
Chevrolet
7
D296-7197
FDB528
194.00
LP528
GDB382
MDB1319
180586
5521082020
Chevrolet
8
D297-7198
FDB296
198.04


GDB4090
MDB1434


8941336851
Isuzu

Chevrolet
9
D368-7259


548.02






141401
18012226
ChevroletTruck

GMCTruck
10
D369-7259


552.02


GDB1273
MDB1787


12321430
Cadillac

ChevroletTruck

DodgeTruck
11
D370-7260


530.02


GDB4031
MDB1778


12321431
Cadillac

ChevroletTruck

DodgeTruck

12
D376-7265


531.02


GDB4014
MDB1764


12321442
Buick

Chevrolet
13
D377-7266


532.02


GDB4015
MDB1765


12321443
Buick

Chevrolet

Pontiac

Oldsmobile
14
D412-7300


369.00




MDB2346


10104485,12518935
Chevrolet

Ford

Pontiac
15
D413-7301


334.02


GDB1226
MDB1766


10104485
Chevrolet

Pontiac
16
D451-7331
FDB588
147.02
LP676
GDB883
MDB1474
180811
5520062840
Chevrolet

Suzuki
17
D505-7384
FDB975
537.02


GDB4054
MDB1771


12510001
Buick

Cadillac

Chevrolet
18
D506-7385


538.02


GDB4002
MDB1772
181412
12510005
Buick

Chevrolet

Pontiac
19
D562-7441
FDB867
402.02
LP789
GDB1143
MDB1658


0446512540
Chevrolet

GEO
20
D614-7492


458.02








12510033
Chevrolet

21
D628-7505


473.04








18021521
Chevrolet

22
D673-7554


538.04






181413
12510050
Buick

Chevrolet

Oldsmoubile

Pontiac
23
D698-7387
FDB1264
566.12
LP1612
GDB1369
MDB1825


18029844
Buick

Chevrolet

Pontiac

Oldsmobile
24
D727-7594








MDB2297


18029765
Chevrolet
25
D729-7596








MDB2299


18025475
Chevrolet

GMC

Chev-Truck
26
D730-7597












04897664AA
Chevrolet

Pontiac
27
D731-7599












12530681
Cadllac

Chevrolet
28
D732-7600












12530688
Cadllac

Chevrolet
29
D741-7611
FDB1458
652.00
LP1302
GDB3204
MDB1897
181408
04465-12240
Toyota

Chevrolet
30
D749-7618












18026165
Chevrolet

Pontiac
31
D750-7619








MDB2337


12454972
Chevrolet

Pontiac
32
D792-7662








MDB2316


18026447
Chevrolet

GMC
33
D792-7700












18043346
Chevrolet

GMC
34
D814-7387












18042417
Chevrolet
35
D818-7693












18042442
Buick

Cadillac

Chevrolet

Oldsmodile

Pontiac
36
D825-7697












97168633
Chevrolet

GMC

Chev-Truck
37
D827-7699












97211691
Chevrolet

GMC

Chev-Truck
38
D841-7716
FDB1442


LP1522


MDB2082
181378
5017843AA
Chevrolet
39
D857-7733
FDB1510








181544
05019803AA
Chevrolet

Dodge

40
D858-7734








MDB2217
181564
05019805AA
Chevrolet

Dodge

41
D866-7741








MDB2134


527674
Chevrolet

Dodge

MITSUBISHI
42
D869-7744








MDB2315
181559
5018945AA
Chevrolet

Dodge

43
D1028-7932












22705327
Chevrolet




















Chevrolet Brake Pad
Chevrolet Brake Pad,Chevrolet Brake Pads,Chevy Brake Pads,Chevy Cobalt Brake Pads
YanCheng Jolin Auto parts CO.,Ltd. , http://www.brakepadshoe.com