Bosch
Group's new fiscal year ushered in a good start. In the first quarter of 2017, the Group's sales increased by 12% and increased by 11% after adjustment of the exchange rate effect. The performance of each business segment and each region has increased, and some business segments or regions have seen more significant increases. Considering the current low economic development prospects and unstable regional politics, Bosch expects the sales growth rate for 2017 to be 3% to 5%. Although the company needs to invest a large amount of up-front investment to ensure future development, the overall growth target is determined. Chairman of the Board of Directors of the Bosch Group Volkermar Dunner stated at the group's annual press conference held by Bosch Central Research Institute: "Good performance is the prerequisite and basis for Bosch to maintain its leading position in the future. To promote existing business At the same time, the development of new business areas to occupy the leading position in technology, which is Bosch in the transformation process of a major strategy." This transformation is mainly reflected in the field of intelligent transportation and Internet of things interconnection. "As an innovation leader, we have been proactively seizing the situation and promoting transformation," Dr. Dunn added.
FY16: Pre-investment hits a record high
In 2016, Bosch Group's total sales increased by 3.6% to 73.1 billion Euros. Excluding the impact of exchange rate factors, the growth rate was 5.5% and the negative impact of the exchange rate on the sales of the Bosch Group amounted to 1.3 billion euros. The Group's profit before interest and taxes reached 4.3 billion euros, and the EBIT margin reached 5.8%. Performance and profitability reflect the large amount of up-front investment made by the group to safeguard its future development. Last year, Bosch's investment in R&D increased by nearly 10% to 7 billion euros. Dr. Stefan Asenkerschbaumer, Chief Financial Officer and Vice Chairman of the Board of Directors of the Bosch Group explained: "In the transformation process of Bosch, we must not only make considerable up-front investment, but also guarantee long-term high profitability." 2016 after adjusting for the negative impact of exchange rates The group's pre-tax profit was 3.3 billion euros.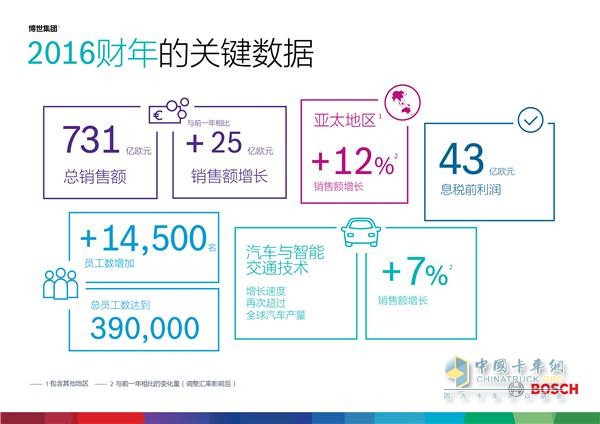 Key figures for fiscal year 2016
New Type of Transportation: Zero Emissions, Zero Concerns, Zero Accidents
The smart transportation sector is in a critical period of transition. Dr. Dunner said, "Bosch is shaping a new type of intelligent transportation. The future traffic can achieve zero emissions, zero concerns, zero accidents, it is no longer just to improve the car itself, but to reshape the traffic mode." He also said that By 2050, the urban population will account for 70% of the global population, and improving urban air quality requires the joint efforts of all industries, policies, and communities. When referring to the current ban on diesel vehicles on the road, Dr. Dunner stressed that all goals and policies for improving air quality should be technically neutral. "Engineer's creativity should not be limited to specific technologies due to certain policies." He believes that the improvement in the performance of internal combustion engines can bring many opportunities for environmental improvement. The actual driving emissions (RDE) measurement procedures that have been implemented since the fall of 2017 will help to further reduce vehicle nitrogen oxide emissions. Currently, Bosch is developing more than 300 RDE projects and has long been using particulate filters on gasoline-powered vehicles. In addition, the interconnection of traffic also helps improve air quality. In the Stuttgart region, Bosch has developed an ancillary solution for intermodal transport. From 2018, community parking services developed by Bosch will also be put into use.
Transportation electrification: the combination of electricity and fuel
Bosch is vigorously promoting the development of electric traffic, and has set up a special business unit to gather technology and resources. In addition to investing billions of euros in improving the internal combustion engine, the company also invests about 400 million euros each year to achieve breakthroughs in the field of electric traffic, most of which are used for battery technology research and development. Bosch is studying current and future battery cell technologies and has obtained more than 30 motorized related orders. In 2016, only 11 orders were won in China, the world's largest electric car market. Starting in 2018, the new Powertrain Division and its 88,000 employees will be dedicated to providing customers with one-stop solutions for various powertrain systems. "Whether it is a traditional internal combustion engine or electric mobility, Bosch will continue to promote the further development of the powertrain in the future. We hope to become the best partner for customers in engineering and technology," said Dr. Dunner.
Autopilot: A series of success stories
Bosch has achieved breakthrough technological progress and business success in the field of automated driving. Thanks to the driver assistance system, the company's sales for 2016 exceeded 1 billion euros for the first time and won orders of 3.5 billion euros. The average market growth in 2017 is expected to be 30%, and Bosch's driver assistance system has achieved an average increase over this market this year. At present, about 3,000 Bosch engineers are developing autopilot technology, an increase of 500 over last year. At the same time, Bosch is working with Daimler to launch a completely autonomous driving and driverless system for urban roads. The main goal of the project is to make automatic driving on urban roads a reality in the early 2020s. One of the key components is Bosch's artificial intelligence on-board computer, the most powerful brain in self-driving cars. At the same time, high-precision digital maps based on radar signals will be launched before 2020, which is also a key part of the realization of automated driving. In addition, Bosch has also entered into cooperation with Vodafone, Deutsche Telekom, Huawei and Nokia to provide technical preparations for interconnection and autonomous driving, such as road test for Vehicular Communications technology.
Interconnected Traffic: Mobile Butler
This year, Bosch will launch a new transportation service platform, the Bosch Automotive Cloud Suite, which includes retrograde warning systems, predictive diagnostics, connected parking and personal assistants. "The Bosch Automotive Cloud Suite is a key technology for interconnected transportation services. Through this technology, we connect drivers, cars, car manufacturers and other mobile service providers," said Dr. Dunnell. The Bosch Automotive Cloud Suite combines the company's expertise in automotive and IT. PwC expects that by 2022, the global market for connected transport will grow at an average annual rate of nearly 25%, and Gartner Consulting expects that by 2020, 250 million connected cars will be driven worldwide. .
New understanding of technology: intelligence and emotion
At the same time, Bosch expects that the global Internet of Things market will reach US$250 billion by 2020, with an annual growth of 35%. In 2016, Bosch has sold 27 million interconnected products. By 2020, all of the company's new electronic products will be interconnected, and each product will be equipped with corresponding services in the future. Among these, the key technology is artificial intelligence. Ten years later, almost every Bosch product will use artificial intelligence technology in R&D, manufacturing or assembly. In the next five years, Bosch will invest 300 million euros to build a new artificial intelligence center. In Baden-Württemberg, Germany, Bosch is promoting the establishment of "Internet Silicon Valley" and politicians, businessmen and scientists will work together to advance artificial intelligence research. At the same time, Bosch is working with the University of Amsterdam on a deep learning research laboratory called the Delta Laboratory. Bosch CEO Dr. Dunner said: "Artificial intelligence will make the interconnect more personal, this kind of personalization will be embodied as an emotional experience. Digital assistants will become smarter and less user-friendly. "The pressure in life." According to market research agency Tractica, the number of people using digital assistants will triple in the early 2020s to 1.5 billion.
Regional Business Performance in 2016
In 2016, Bosch Group's sales in Europe reached 38.6 billion euros, an increase of 3.4% year-on-year, and 4.8% after adjusting for exchange rate effects. In 2016, the impact of the exchange rate was extremely significant, especially the depreciation of the pound. The Bosch North America market failed to extend its strong growth momentum in 2015. In 2016, its sales fell 2.2% (after adjusting for exchange rate 1.8%), reaching 12.3 billion Euros. Under the influence of exchange rate, Bosch's South American market suffered a long-term downturn and stopped falling last year, achieving a slight growth of 2.4%, reaching 1.4 billion euros. However, nominal sales are still down 5% year-on-year. Bosch's performance in the Asia-Pacific region is particularly impressive, with sales growth of 8.3%, reaching 20.8 billion euros (12% after adjusting for exchange rate effects) and accounting for approximately 30% of global sales.
2016 Business Segment Development
In 2016, the automotive and intelligent transportation technology business segment recorded the strongest growth in the company's four business areas, with sales growth of 5.5% (up 6.9% after adjustment of exchange rate effects) to reach 43.9 billion euros, and the business sector's profit margin reached 6.0%. . The industrial technology business segment, especially the transmission and control technology sector, continued to face a difficult market environment in 2016, with sales falling by 5.2% (4.2% after adjusting for exchange rate effects) to 6.3 billion euros. Excluding the previously sold gearbox business, sales fell only 1.5%, and it is encouraging that the business unit has resumed profitability. The negative impact of the exchange rate is particularly evident in the data disclosed by the consumer goods business segment. After adjustment of the exchange rate effect, the department's sales increased by 5.7%. Nominal sales rose by 2.6% to 17.6 billion euros, and profit margins rose by one percentage point to 8.2%. The energy and construction technology business segment achieved sales of 5.2 billion euros in 2016. Similarly, the exchange rate has also had an adverse effect. After adjusting for exchange rate effects, sales increased by 4.5%, nominal growth by 1.7%, and profit margin by 4.3%.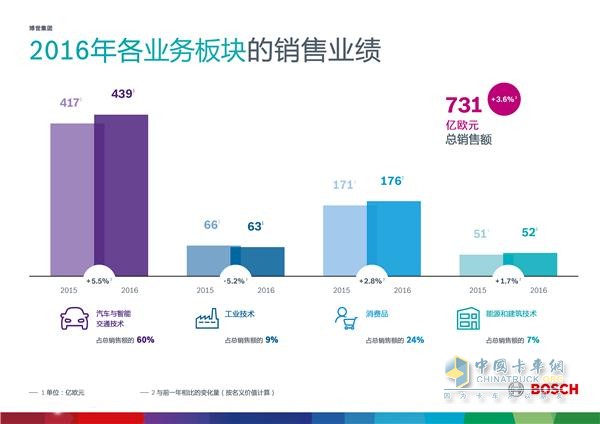 Bosch 2016 Sales
Employees: Need a lot of IT and software related people
As of December 31, 2016, the Bosch Group had about 390,000 employees worldwide, an increase of 14,500 over last year. From different regions, the structure of personnel remains basically unchanged. Among them, the number of employees in Germany increased by 2,000 to 134,000. Most of the remaining increase is distributed in Asia and North America. The company currently has strong demand for experts and management talents, especially software and IT experts. Currently, Bosch employs more than 20,000 software engineers, of whom more than 4,000 specialize in the Internet of Things.
Rotating Valve,Rotary Control Valve,Drop Through Rotary Valve,Drop Through Rotary Feeding Valve
Quantum Conveying Systems Yangzhou Co.,Ltd. , https://www.quantum-sino.com