"Currently, Chinese tire companies should establish a clear breakthrough model, get some real skills to work, and do a good job of business operations, from the 'quantity' operators to 'quality' operators, and then become 'quality' leaders. ."
Recently, at the 16th National Rubber Industry Information Conference, Wang Feng, Chairman of Fengshen Tire Co., Ltd. shared his thoughts on the transformation and upgrading of the domestic tire industry.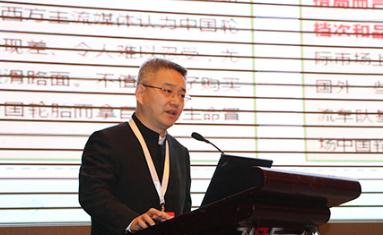 Fengshen Tire Co., Ltd. Chairman Wang Feng
Three reasons cause Chinese tires to be sold

At present, in the international market, the domestic tire companies have weak brand awareness and the price cannot be sold, and they are positioned at the middle and low end.
Wang Feng believes that there are three reasons for this situation.
First, there is no clear market positioning, brand positioning, and product positioning in marketing.
In this regard, many domestic tire companies have begun to awaken, but long-term low-end customer perception image is difficult to eliminate in the short term. In addition, if the marketing work can not keep up (brands, products, channels, etc.), even if the tire quality is good, the customer's perception of the Chinese tire brand is not easy to change.
Second, quality and technical support are not strong.
Tire prices are low. In the final analysis, the overall competitiveness of China's tire companies is not strong, too much attention to the creation of production capacity, product quality fluctuations, a large gap between technological innovation capabilities, R & D and innovation platform construction is lagging behind.
Third, the lack of refinement of internal management.
Mainly manifested as: lack of strategic planning, management team skills need to be improved; internal organizational structure, systems, processes do not meet the market competition; lack of international talent and high-end talent, management skills and ways of thinking backward.
Enterprises should do "quality" leaders
<br> <br> talking upgrade path breakthrough, Wang Feng said that on the whole, domestic tire companies whether it is product quality, brand, or channels, management team skills, etc., Both have many gaps with the world's top companies.
In his view, in order to achieve rapid transformation and upgrading, enterprises must implement the "go global" strategy and carry out overseas capital mergers and acquisitions on the international level; on the other hand, they must devote great efforts to business operations. Under normal circumstances, From "quantity" managers to "quality" operators, they will become "quality" leaders.
Pursuit of "Three Accuracy" and "Three Innovations"

Wang Feng believes that to be a "quality" operator, it is necessary to establish a clear breakthrough model, to get some real skills to get hands-on, to achieve refined management - "three precision" (precision marketing, precision research and development, precise management) On this basis, we will continue to achieve specialization and "three innovations" (marketing innovation, technological innovation and management innovation).
First of all, we must implement accurate marketing and marketing innovation.
Most domestic tire companies do not have a clear market position and complete sales channels. There are many brands but no hierarchy. This will break the vicious competition pattern of product homogeneity and focus on creating differentiated competitive advantages. Chinese companies generally export in overseas markets mainly through wholesalers (without intermediaries), and have limited influence on sales activities and value proposition in most countries.
Second, we must implement precision research and development and technological innovation.
By entering the core sales network and building a high-end customer base, this requires a strong product. At present, there has been a marked improvement in the domestic production generation, but the technical capabilities of the platforms that support reserves and develop a generation have lagged behind.
  
Third, to implement accurate management and management innovation Domestic tire companies in business operations, "heavy business, light management", the implementation of precision management, we must enhance the management team's skills to solve the extensive problem of thinking.
Finally, Wang Feng said that doing industry is a lifetime, and many Chinese companies have such a tradition. In an impetuous society, there is a need for industrial literacy and the spirit of industry. This is the soft power that Chinese tire companies must develop over a long period of time.
Kbc Electrical Cabinet Frame Machine The material of the roll shaft is 40Cr, and it is quenched and tempered, and the hardness is HB280. The material of the molding die is GCr15, quenching treatment, hardness: HRC 56-62 ° C. The forming frame is cast iron and tempered. High strength and long service life.The bed is welded with steel plates. And tempering, eliminating internal stress and avoiding deformation of the fuselage. The KBC Electrical Cabinet Frame Machine control is PLC control, and multiple safety protection is set during normal production.
KBC Electrical Cabinet Frame Machine
Kbc Electrical Cabinet Frame Machine,Electrical Cabinet Frame Machine,Cabinet Frame Machine,Cabinet Frame Machinery
Hebei Taigong Roll Forming Machinery Co., Ltd. , https://www.tgrollformingmachine.com