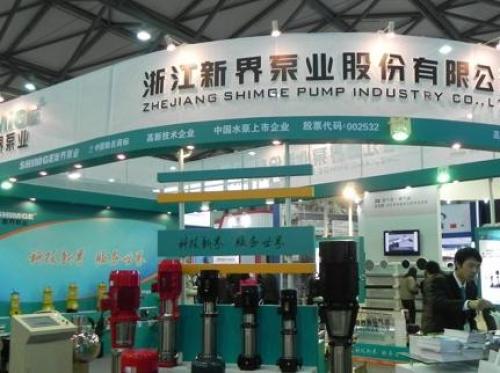 In 2013, the operating income of the New Territories pump industry only completed 84.52% of the planned income of 1.333 billion yuan at the beginning of the year. According to the senior management of the New Territories, the company will focus on the development of the two main lines of water pump and water treatment in the future, and the water treatment business will become an important development direction for the company in the future.
The annual report shows that the company's domestic sales in 2013 were 644 million yuan, an increase of 32.13% year-on-year, and continued to maintain rapid growth; foreign sales were 454 million yuan, accounting for 40.32% of the total revenue, but the growth rate showed a declining trend, only an increase of 8.53% year-on-year.
According to reports, the company has 15 regional distribution centers in major provinces and cities across the country, with more than 1,100 primary dealers and more than 4,000 secondary distributors. The company is considering the use of existing distribution networks to generate greater value. In terms of technology research and development, the company will establish a new global technology research and development base in the Xiasha Development Zone in Hangzhou. In the future, it will also build a marketing center and a water treatment center. At present, New Territories Pumps (Hangzhou) Co., Ltd. and Zhejiang Bohua Environmental Engineering Technology Co., Ltd. have settled in, and the construction of the new base is already under planning. The company will also invest 140 million yuan this year to implement an annual output of 1.2 million pumps technological transformation projects, mainly around agricultural pumps and deep well pumps, technical transformation will achieve sales target of 500 million.
The most noticeable thing in the 2013 annual report of the New Territories Pump Industry was that the subsidiary company Zhejiang Bohua Environmental Technology & Engineering Co., Ltd. had a net profit loss of RMB 3,321,800 in 2013, and the gross profit margin decreased from 39.28% in the previous year to 22.09%.
In October 2012, New Territories Pump used 31.7 million yuan of its own funds to acquire 51% of Zhejiang Bohua Environmental Technology Engineering Co., Ltd. to participate in the environmental protection field, which became a major aspect of the company's future growth. According to the company's top management, in order to reduce the risk of payment, Bohua Environment has strictly controlled the amount of BT projects undertaken since last year, adopting strategies based on corporate projects (EPC, BO) and supplemented by government projects. Bohua Environment has strong technical strength in the field of industrial wastewater treatment. Through the consolidation of 2013, the performance in 2014 is expected to be gradually released.
According to a senior person from the company, the company's future goal is to account for more than 30% of its revenue from environmental protection business.
The Vibrating Fluid Bed Dryer is used to dry particles or granules. It is widely used in food, chemical and pharmaceutical industries. Heat transfer and mass transfer in such dryer are high. It doesn't damage the shape of the product.
Vibrating fluid bed dryer is widely used for operation of drying, cooling and damp increasing (or carry out at the same time) for powder or granular materials. Material is fed into the machine from feeding inlet, and moves forward continuously along with the level of fluid bed under the action of vibration force. Hot air passes through fluid bed and carries out heat exchanging with damp material. Then the damp air is exhausted out by exhaust fan, some fine powder is collected by cyclone separator and dust remover, and dried product is discharged from discharging outlet.
Features of glutamate vibrating fluid bed dryer:
Adopts new type quick-open structure for upper bed and bottom bed. Upper bed can be moved easily. So it is very convenient to clean and wash the drying system.
Bed plate adopts laser punching, it can avoid the deformation in common punching process effectively.
Bottom bed adopts stainless steel seamless tube for supporting, the structure of bed is more stronger and make the life of equipment longer.
Material is heated uniformly, heat exchanging is full and drying intensity is high. Energy can be saved about 30%.
Vibration source is vibrating motor. It features constant operation, convenient maintenance, low noise and long life.
Fluid state is stable, there is no phenomenon of gap or blowing out.
There is less damage to the surface of material. It can be used for drying material that is easy to broken. The work efficiency is not affected even if the granule of material is irregular.
Adopts full sealed structure. It effectively avoids cross infection between and air, the operation environment is clean.
Vibrating Fluid Bed Dryer
Continuous Fluid Bed Dryer, Fluid Bed Dryer Machine, Vibro Fluidized Bed Dryer, Vibratory Fluid Bed Dryer
Changzhou Ruide Drying Engineering Technology Co., Ltd , http://www.rddryer.com